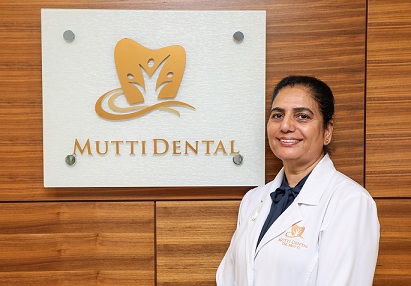 Dr Hardip Mutti, DDS
Hi, My name is Hardip Kaur Mutti. I got Bachelor of Dental Surgery (BDS) degree from Punjab Govt Dental College Amritsar (India) in 1987 and Doctor of Dental Surgery (DDS) from New York University (USA) in 2010. I opened 'Mutti Dental Care Centre' in Surrey in 2011. We are a strong, dedicated and very caring team. Our focus is on preventative dentistry . We spend a lot of time on discussing treatment plan. Your comfort and satisfaction is our main goal. In our team you will find the right blend of energy and experience. Looking forward to seeing you soon . Thank You!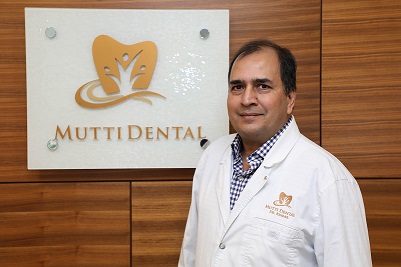 Dr Arun Kumar, DMD
Hi, my name is Dr. Arun Kumar. I received my Bachelor of Dental Surgery (BDS) from Government Dental College, Rohtak, India in 1988, and Master of Dental Surgery (MDS) in Orthodontics from the All India Institute of Medical Sciences (AIIMS), New Delhi, a premier health institute of India in 1994. I have been working as a general dentist and an Orthodontist, and have been a member of the teaching faculty since 1995. I have more than 3000 completed Orthodontic cases to my credit during a span of 19 years. I received my DMD from Henry M. Goldman School of Dental Medicine, Boston University in 2015. Now I feel proud to be a member of the Mutti Dental Care Team since 2016. I provide services in general dentistry as well as preventive, interceptive, and corrective Orthodontics.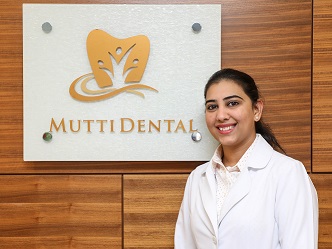 Dr Jaswant Dhaliwal, DDS
Hi, my name is Jaswant Kaur Dhaliwal. I received my Bachelor of Dental Surgery (BDS) degree from Desh Bhagat Dental College and Hospital, Muktsar, India, in 2014. I cleared the equivalency examinations of the National Dental Examining Board of Canada (NDEB) and received my license to practice as a General Dentist in January 2019. I joined the Mutti Dental Care Centre in May 2019 and very pleased to be part of such an experienced and supportive team.
I enjoy the sense of accomplishment by providing oral care and comfort to the patients. I like explaining the procedures, the necessity of treatments, and raising good dental awareness. I take pride in delivering quality work and will continue to provide you the best treatment possible according to your dental needs.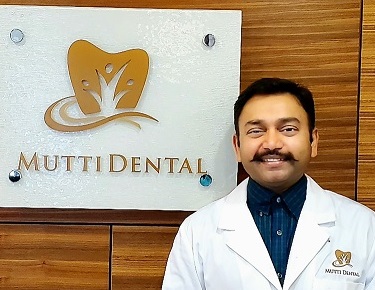 Dr Gorav Singla, DDS
Hi, My name is Gorav Singla. I received my Bachelor of Dental Surgery (BDS) degree from D.A.V.  Dental College and Hospital, Yamunanagar, India, in 2006. Subsequently, I did my Masters in the field of Prosthodontics, Crown & Bridge from Govt. Dental College & Hospital, Patiala, Punjab. I finished my Canadian Dental Board equivalency examinations in one go and became a certified General Dentist in Canada. Even when I was attempting my Canadian Dental Board exams, I worked as a dental front office manager which gave me a unique opportunity to understand and bond with patients. I always strive to provide the best possible care in the most comfortable way. You will always find me smiling and I wish to see the same smile on my patients. I hope We, at Mutti Dental Care will always  meet your expectations and even surpass them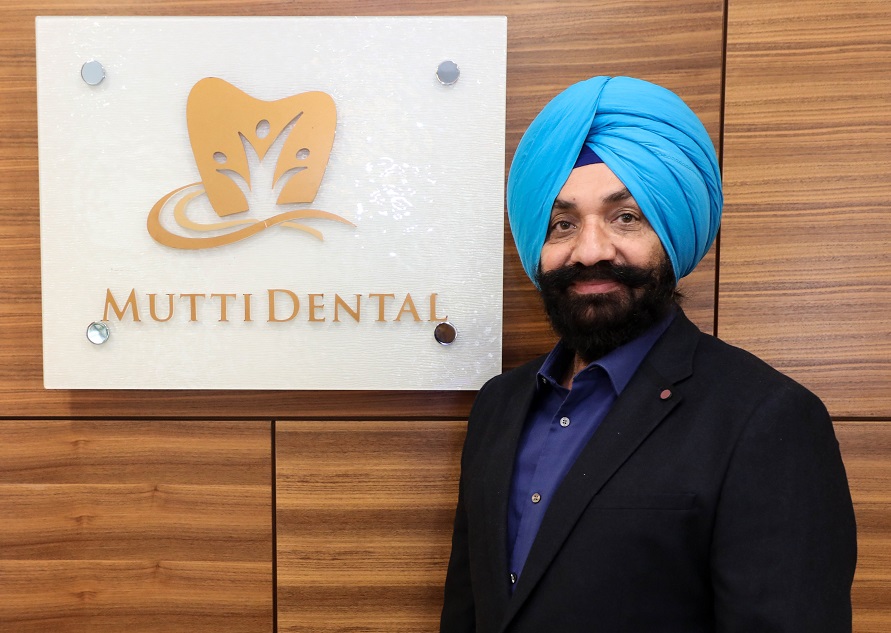 Gurdeep Singh Mutti, Managing Director
Hi, My name is Gurdeep Singh Mutti. I am here to help our team to give our awesome patients a safe and stress-free environment so that they can have an unforgettable positive experience. I always try to make sure that the services provided in our office are up to the mark and our patients leave our office with great satisfaction. Providing quality care to the patients is our ultimate goal. Please give us opportunity to serve you. Thanks.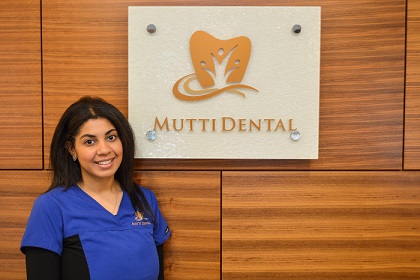 Safia Damji, Dental Hygienist
Hi, my name is Safia Damji. I graduated from the University of British Columbia with a Bachelors in Dental Sciences in May 2019. Working at Mutti Dental Care Centre has been a great experience, working with such an amazing team. As a dental hygienist, I provide safe and ethical preventative care. I enjoy meeting new friendly faces and providing patient education, so that they can leave the appointment with some oral self care knowledge to help maintain their oral health. It is always a great feeling to be able to make a difference in patients oral health every day, once smile at a time!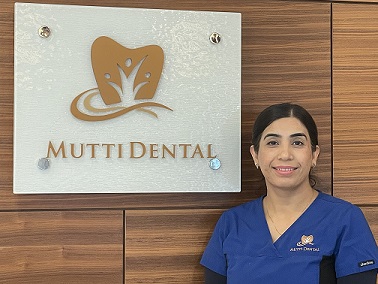 Harpreet Bhandal, Front Desk coordinator
Hello, I am Harpreet. I have been part of Mutti Dental Team since 2011. Being a CDA and in the profession for almost 14 years helps me to utilize my skills in the smooth running of front office and also gives me a better understanding of our patient needs. I am a very social person who loves to interact with people. Mutti Dental is like a second home as I have been here for almost 10 years and I make sure our patient gets the beat experience during their dental visit. In my spare time I love to travel with my 3 beautiful kids and of course my husband.
"Smile a while and while you smile there will be miles and miles of smile just because you smiled."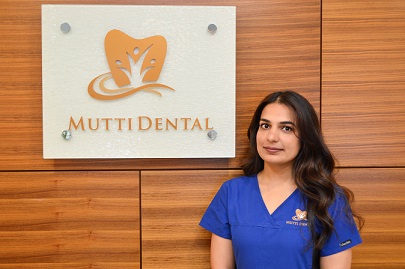 Sukhbeer Kaur, Dental Office Assistant
Hi, My name is Sukhbeer Kaur ( Sukh)
I joined Mutti Dental Care Centre in 2019 and I feel grateful for being a part of such a wonderful team.I love my profession and leave no stone unturned give you the best experience.When you come to Mutti Dental,I will be the first friendly face to greet you at the front desk and you will feel welcomed and well informed.When you call our office you will hear me, always ready to help you.In my free time I love to travel and spend time outdoors.
Gurpreet Bhatia, Receptionist
Hi , I am Gurpreet Bhatia.
I have a background of working in the dental field for over 5 years. I have a bachelor's degree in dental surgery and am passionate about all aspects of dentistry. I enjoy interacting with the patients and try to make everyone feel welcome when they come to the office. You will spot me at the front desk at 'Mutti Dental' where we believe in building long-term relations in a modern and relaxed environment. Outside of work, I like travelling, spending time with friends and family, baking, dancing, going to the gym and practicing yoga.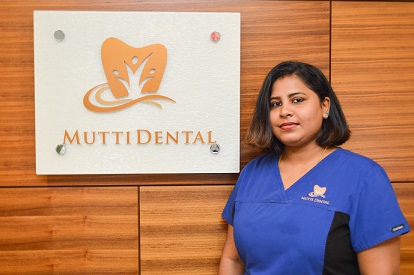 Sumeetha Sri Nath, Certified Dental Assistant
Hi , I am Sumeetha Srinath. I completed my bachelors of dental surgery in the year 2013 from Pondicherry University , India. I started working as certified Dental Assistant in Canada since 2017. I'm a calm and very friendly polite person In nature. Being part of Mutti dental has been always amazing and aspire me everyday one step closer in achieving my dream of becoming a certified dentist in Canada.
At Mutti dental we deliver patients with absolute quality and advanced dental care helping them in maintaining their million dollar smile.It is immense pleasure working under Dr. Hardip k Mutti and her team of associate dentists with great ambience and positivity. In my leisure time I always love to explore new things and travel . Looking forward to see you all soon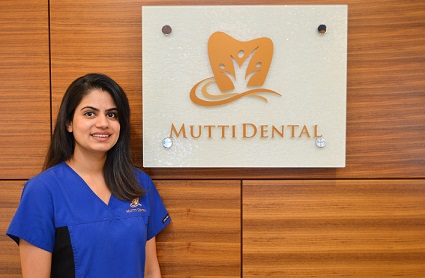 Sukhpreet Dhami, Chair Side Dental Assistant
I completed my bachelors in dental surgery by the end of 2016 from M.J.P Rohilkhand university, Uttar Pradesh, India. I feel so much blessed to work under the guidance of all the wonderful Dentists of our clinic. Our practice is primarily based on Preventative measures. Everyone must be aware of the saying prevention is better than cure. Yes it is true and you will believe it too. When you arrive at our setting you will feel welcomed with beautiful smiles. We all follow the agenda of team work and participation to get the best of us.
I work both as a front desk receptionist by helping the patients with their queries as well as assistant helping with clinical procedures on chair- side. In my spare time, I enjoy listening to music, watching Netflix series and going out to a new places. We welcome to you and your family. At the end, something in our Punjabi culture people says a lot "Hasde raho, Vasde raho". We will feel blessed if we are at least playing a little role there.
Parneet Sidhu, Chair Side Dental Assistant
Hi, My name is Parneet Kaur Sidhu, I work as a chair side assistant at Mutti dental care centre. I hold degree in dental surgery from Baba Farid University, Punjab, India. I have more than 7 years of experience as a dental surgeon. Dentistry is my passion, as it enables me to give my patients confidence of smile and add to their personality.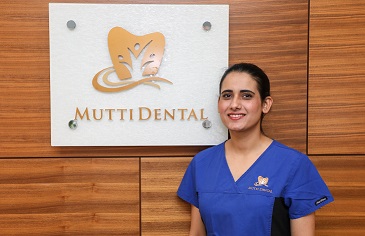 Amanpreet Kaur, Chair Side Dental Assistant
Hi, My name is Amanpreet Kaur. I am a chair side dental assistant at Mutti Dental Care Centre. I got my Bachelors of Dental Surgery (BDS) from India in 2014 and Master of Administrative Sciences (MAS) from Vancouver in 2016. Working at Mutti Dental Clinic has taught me to approach the patient's dental health with care and professionalism. I always try my level best to alleviate fear & stress that patient may be experiencing during the appointment by explaining the situation and procedures being practiced. I speak English, Punjabi & Hindi. I love sports, music, travelling & spending time with my family. See you soon at the Mutti Dental Care. Thank you.
Dr Felix Zhang
I completed my 1st dental degree in 1988 and received a master degree in oral surgery in 1991 in China. I worked for 5 years as an oral surgeon before moving to Canada in 1996. I obtained a PhD degree in oral health sciences at the University of British Columbia in 2000 and a 2nd dental degree (DDS) in 2005 at University of Alberta. I worked in Calgary for 5 years and moved to Vancouver in 2010.
I am currently working as a general dentist in multiple offices performing tooth extractions in the lower main land of British Columbia.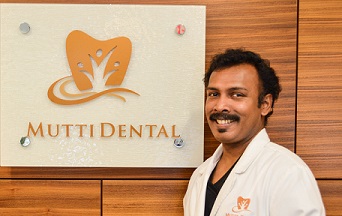 Dr M.K Pillai, DDS
Hi, I am M.K Pillai. I graduated in 1999 from Bangalore University in India and completed my specialty training in Oral Surgery and Dental Implantology. I successfully challenged the NDEB equivalency process and went on to acquire the general dentist license in British Columbia. I am the caring and affectionate dentist who puts the patient's welfare ahead of everything else, in fact,I ensure that each and every procedure undertaken is utmost painless.In my spare time, I love to chill out with my family and close friends. I enjoy outdoor activities, traveling, hiking, and music. Looking forward to ensuring your utmost comfort with care and compassion